Restaurants
Alan Geaam
The realization of a French dream
What was your first impression with cooking ?
Alan Geaam: I grew up during the Lebanese civil war. My mom reassured us by giving us maximum love, including through her pans. She cooked all the time and invited everyone to eat. I could see that people loved her very much. I told myself that if one day I could cook like her, in turn people would love me too! At the age when other kids wanted to become Spiderman or bodybuilder, I just wanted to be a cook.
Do you remember a particular recipe?
Alan Geaam: Yes, this is the main dish of my childhood memories and that I still ask my mother: a chicken with cabbage confit with seven spices and pepper that simmers for hours. When I came back from school and I smelled this smell from the end of the street, I started running as fast as possible to the house to throw my schoolbag and run into the kitchen. It was also the pleasure of waiting, because it was even better the next day. I tried to do it again, but I gave up. I never managed to reproduce it identically!
What are your character traits?
Alan Geaam: I put enormous pressure on myself. Every morning I want to do better than the day before. I like to give advice to young people and I am lucky to be surrounded by a team that shares my dreams and believes in them. It is very motivating. We are almost at 80 employees, it begins to be a very important responsibility, with a lot of requirements and work. Not to mention my contracts in Switzerland, Courchevel or Marseille. It is a chance and a happiness as a business manager to have several hats. But when I wake up in the morning, I am above all a chef whose goal is to share happiness with my customers.
You have a star at Alan Geaam restaurant since 2018. Is it an additional pressure?
Alan Geaam: Yes, it was a turning point in my career, because I then sold my two bistros AG Les Halles and AG Saint-Germain to focus on my gourmet table and keep the star. But I was able to turn the pressure of this star into positive energy to launch new projects and now I no longer ask myself questions. I go straight ahead and above all I work very very hard to be up to all these challenges.
Are you aiming for a second star?
Alan Geaam: I have always aimed higher. It took me ten years of my life to acquire this star. Of course, we want to cherish excellence and it is a chance to be part of the world of gastronomy in France, while bringing my Lebanese touch. After five years, we continue to progress, but the most important thing is that the customer is happy. Next to that, I really want to continue to show the diversity of Lebanese cuisine. Paris is a city of diversity and I feel very good, I want to continue to live this happiness.
You often return to Lebanon. Does gastronomia evolve there, as is the case in Paris?
Alan Geaam: I am very inspired by Lebanese street food, which is indeed evolving a lot. I had the chance to grow up close to the Tripoli market, next to which we find a lot of fantastic concepts that we are not used to seeing in France yet. But for me, France is the most beautiful country in the world.
What chef's dish has marked you the most?
Alan Geaam: It's not a dish, but a whole meal at Arnaud Donckele's Cheval Blanc in Saint Tropez. It was extraordinary. A magnificent experience that put French gastronomy at its peak, both on the plate and service. I also love the very promising and original cuisine of Omar Dhiab who got his star this year. I think that his cuisine will make a lot of talk, like his Croq' sweetbreads, a condiment from Grenoble. He is a leader to whom I have given advice and to whom I have introduced many people to help him get started. I'm really glad he got his first star.
Where do you get your recipe ideas?
Alan Geaam: What inspires me is the season and its products above all. And then there is nature, my travels in Lebanon, the products I taste every day. It's a bit of an alchemy that pushes me to transform all this into gustatory emotion. From May to October, it's happiness. We have all the colors, all the palettes that clash, with the profusion of products that we have available.
When you retire, how would you like your kitchen to be remembered?
Alan Geaam: With a lot of modesty, I would like people to remember that with my teams we created a culinary identity apart, and that starting from scratch, I devoted eighteen years of my life to being the first Franco-Lebanese chef to get a star.
And what do the Geaam eat at home?
Alan Geaam: I rarely eat at home, but when I'm there, I peck to taste a lot of new products. It's a bit of a continuation of my work at the restaurant. When I'm on vacation, I let myself go a little more. Especially in Mandelieu-la-Napoule, where I go from time to time with my family. There, I do my shopping at the market and I cook very varied and seasonal things, in the Mediterranean style, with lots of citrus and acidity, vegetable and flavors.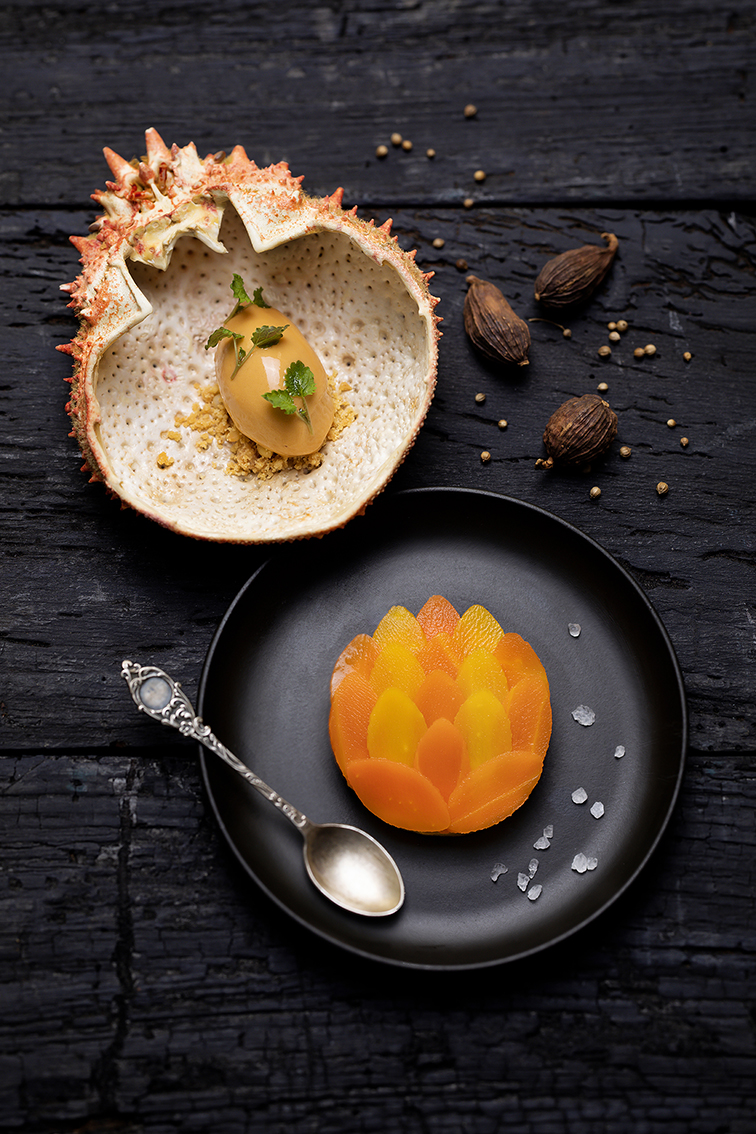 The parisian adresses
of Alan Geaam
19, rue Lauriston, 16e. https://restaurant.alangeaam.fr

205, rue Saint-Martin, 3e. www.qasti.fr

212, rue Saint-Martin, 3e. www.linktr.ee/faurn_boulangerie

212, rue Saint-Martin, 3e

214, rue Saint-Martin, 3e. www.qastishawarmagrill.fr
You must like these following articles